---
We are all aware of India's success at the 2020 Tokyo Olympic Games and the 2021 Tokyo Paralympic Games. Whether it was Neeraj Chopra's gold, Mirabai Chanu's silver, Sundar Singh's bronze, or even our women's hockey team's almost missed a medal, they have all made the country proud. In fact, their victories have fueled the desire of the younger generation to follow in their footsteps.
As a gesture of appreciation, acknowledgment, and encouragement, we observed that participants receiving medals and trophies for their outstanding performances. Both the Central and State governments, as well as business groups and global brands, have offered generous awards that have piqued the public's interest and elevated these medalists and other Olympic national heroes.
While the announcements of these awards have increased the public's curiosity, it has also gathered the public's interest in learning more about the tax liability that sportspeople bear in relation to the rewards they get, both in cash and in-kind, under the Income-Tax Act.
Let's see how: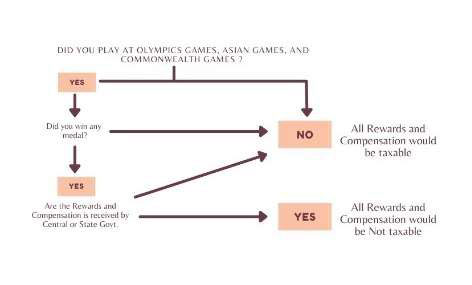 For E.g,
Neeraj Chopra received 6 crores from the Haryana government, 1 crore rupees from the BCCI, 2 crores rupees from BYJU'S, 25 lakhs rupees from Realty firm, 1 crore rupees from JSW group, 1 crore rupees from Manipur government, 2 crores rupees from Punjab government.

So in this case,

Because Neeraj Chopra is a medal winner, the amounts received from the BCCI, BJYU's, Realty Firm, and JSW Group will be taxed, i.e. tax will be paid on 4.25 crores rupees; however, the rewards received from the Haryana, Punjab, and Manipur governments will be tax-free, i.e. no tax will be paid on 9 crores rupees.

The Haryana government will reward the nine history-making Indian women's hockey team players from the state with a cash reward of 50 lakh rupees each.

Here,

Because the Women's Hockey Team failed to win a medal at the Olympics, the cash prize of 50 lakh rupees would be taxable in the hands of the hockey players. Sounds weird and regrettable, but true.
---
Disclaimer
The Blogs published in this website are for educational purposes only. It is meant to give you a general information and a general understanding of the topics discussed therein and not to provide you or any person any professional advice thereof. By using this website you understand that there is no professional relationship between you and Mundle Venkatraman and Associates (MVA) or with any of its partners, associates or employees. Any information available on this website should not be used as a substitute for competent professional advice.
Terms of Use